Anti-Tip Brackets for Freestanding Ranges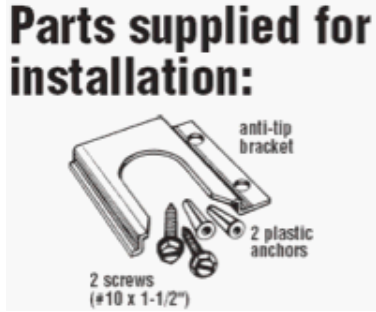 When we inspect homes, we find that 95 percent of the time freestanding ranges do not have anti-tipping devices.  This is a hazard because if the over door is open and downward pressure is put on the door or a small child stands on the door, the range will fall and can crush, scald, or burn anyone caught beneath.
Anti-tip brackets are metal devices designed to prevent freestanding ranges from tipping. They are normally attached to a rear leg of the range or screwed into the wall behind the range, and are included in all installation kits.
To check you range, simply firmly grip the upper-rear section of the range and tip the unit.  If equipped with an anti-tip bracket, the unit will not tip more than several inches before coming to a halt.
You can contact the dealer or builder who installed their range and request that they install a bracket. For clients who wish to install a bracket themselves, the part can be purchased at most hardware stores or ordered from a manufacturer. General Electric will send their customers an anti-tip bracket for free.
https://www.peaktopeakhomeinspections.com/wp-content/uploads/sites/210/2022/03/Anti-Tip-Brackets-for-Freestanding-Ranges.jpeg
1200
1800
Spectora
https://d1dy77v5epf6w1.cloudfront.net/wp-content/uploads/sites/210/2021/09/18172704/peak-to-peak-logo-jpg.jpg
Spectora
2022-03-30 20:38:49
2022-03-30 20:39:07
Anti-Tip Brackets for Freestanding Ranges